Editor's note: This article originally ran on chasingjoejohnson.com.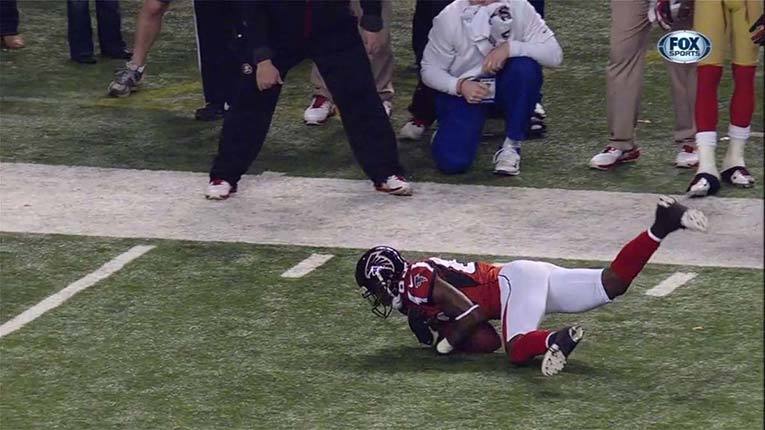 Sometimes you rediscover your fanaticism in the strangest of places. And when you do, it feels like a relapse.
28-24.
Prior to the Falcons final fourth down attempt, I told my wife that if they ended up losing, I was going to need some time alone. She understood. The ball was snapped, the hook-and-ladder did what it always does – outside of Varsity Blues, that is – and the clock eventually ran down to nothing. I left the living room without saying a word and walked into our bedroom. I shut the door, turned off the lights, and laid down in bed. Face first.
Thirty seconds later, I was back in the living room.
I decided that I wasn't going to let this be like the other times. Normally after a loss of this magnitude, I put up a wall to shield myself from the rest of the sports world. My misery does not love company, you see. It's called self-pity, not us-pity. I need to wallow in it in peace. Over time, I'll eventually get over my butthurt, and over time I'll feel comfortable returning to my station as a normal, productive member of society. But I need to be the one dictating the terms of my return. "Over time" could be one day or it could be one month. Or it could be even longer. That needs to be my decision to make, not anybody else's. In the meantime, I don't want to hear anything from anybody. The slightest bit of antagonism might set me off.
This time, though, I decided it wouldn't be like that. Not like the time I avoided all ESPN everything for three whole months after Georgia Tech lost to UConn in the 2004 National Championship Game. Not like the time Reggie Ball throwing the ball away on fourth down against UGA caused me to swear off Georgia Tech football (I'm done with this team! Forever!!). Not like the time I stonewalled my friends for weeks after the Falcons lost in Super Bowl XXXIII.
So why the change?
Time and time again, I've talked to you about the importance of hope. Hope is what buoyed me. Despite the cataclysmic manner in which the Falcons lost to the 49ers, for the first time ever, I left the season feeling like I had reason to be hopeful about the Falcons.
Julio Jones.
Jacquizz Rodgers.
Chase Coffman.
Sean Weatherspoon. Robert McClain. Thomas DeCoud. William Moore.
Matt Ryan, Roddy White, hell, even Thomas Dimitroff. The list goes on and on.
Even if Tony Gonzales or Todd McClure retire, even if I'm proven right and the loss dooms the Falcons to getting the "same old Falcons" treatment, I knew in that moment that the future is bright. No need to sweat the loss. My mind was so right I even sent a congratulatory text to a friend of mine who roots for the Niners. I felt no emotion. I was over it.
Or so I thought.